Poco X5 Review – Value under $200 (₹ 15,000)
Poco has recently launched two smartphones, the Poco X5 and the Poco X5 Pro. In this article, we will focus on the vanilla Poco X5. It is a rebranded Redmi Note 12 with a more powerful processor and a cheaper price tag. The 6/128 GB variant starts at just $200, making it an excellent value for money phone.
Starting with the design, the Poco X5 is a well-built phone with a good-looking frosted back finish. The slide curves on the sides help with the grip, and it has a nice weight to it, despite being relatively lightweight. However, the design choice of a camera island has become a bit repetitive and boring over time. Poco could step up its game in the design department.
One of the strongest points of the Poco X5 is its display. It has a 6.67-inch AMOLED panel with full HD resolution, 120Hz refresh rate, and DCI P3 gamut.
The screen is sharp with excellent contrast and near-accurate colors. The screen is also bright enough to use outside on a sunny day. Poco has optimized the 120Hz refresh rate well, making everything from scrolling to multitasking feel incredibly smooth and responsive.
However, the phone misses out on a stereo speaker setup, making the content consumption experience not the best.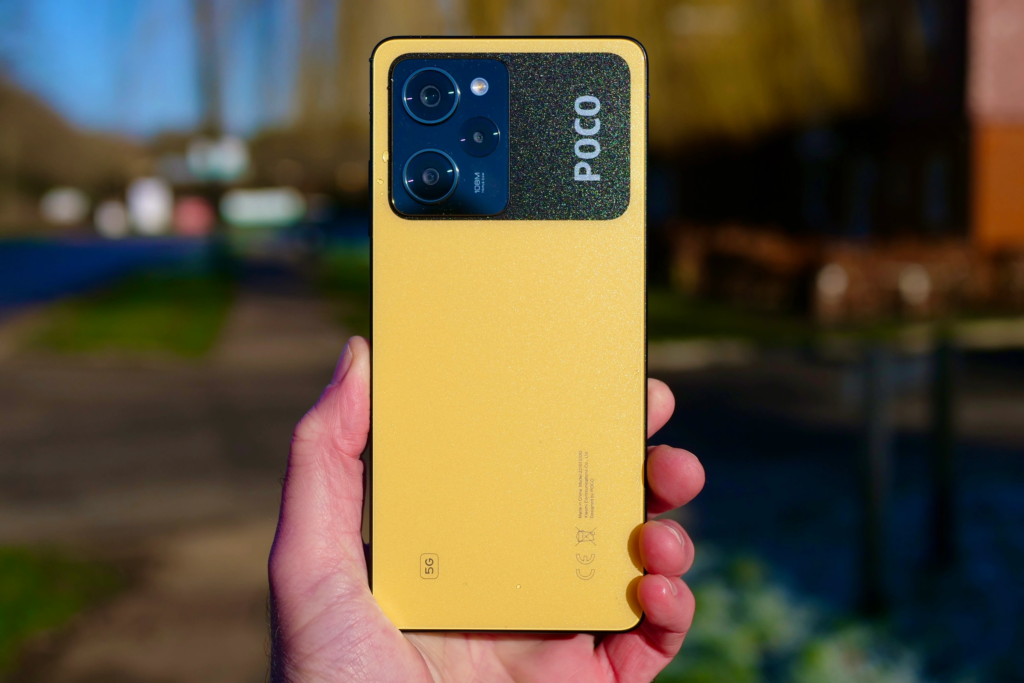 The Snapdragon 695 chip on the Poco X5 is capable of handling everyday tasks with ease. Its performance is identical to the Snapdragon 4 gen 1 on the Redmi Note 12, except that the Snapdragon 695 CPU cores are clocked slightly faster, resulting in higher benchmark scores.
The phone runs on Android 12 with an older MIUI 13, and Poco desperately needs to improve this. Xiaomi's MIUI is not known for the most stable software experience, and unfortunately, it is the same with the Poco X5.
The triple camera setup of the Poco X5 is identical to that of the Redmi Note 12. It consists of a 48-megapixel primary, 8-megapixel ultra-wide, and a 2-megapixel macro lens.
The 13-megapixel selfie shooter takes decent selfies. Photos from both these phones look pretty similar in daytime scenarios.
The main difference is in terms of the color tone, where the Poco X5 images turn out a bit warm as it tries to achieve a natural look, whereas the Redmi Note 12 tends to boost the colors a bit to make them more pleasing.
In conclusion, the Poco X5 is an excellent value for money phone with a powerful processor and a good display. It has a decent camera setup, but the software experience needs improvement. Overall, it is a great phone for those on a budget.