The Cowabunga IPA, also known as the MacDirtyCow Toolbox App, is a versatile tool for iPhone and iPad users who want to customize their devices. It enables users to modify hidden system settings on iOS versions 14.0-15.7.1 & 16.0-16.1.2 without requiring a jailbreak.
The app was originally named DockHider and was developed by leminlimez, but it has since been rebranded as Cowabunga due to its increasing popularity and additional features. It utilizes the MacDirtyCow exploit (CVE-2022-46689) and provides a one-stop solution for users to tweak their iOS devices according to their preferences.
This application is a jailed toolbox specifically designed for iOS versions 14.0-15.7.1 and 16.0-16.1.2, which utilizes the CVE-2022-46689 exploit. To ensure that the app runs smoothly in the background, it's necessary to enable notifications and set location services to "Always."
The app enables users to hide the dock and folder background and prevent certain sound effects from being reversed. However, it's important to note that some of the changes made through this app may be permanent on iOS 14.0-14.8.1.
The IPA file can be found in the "Releases" section. To support the developers and gain access to exclusive private beta builds, consider becoming a patron on Patreon. As a patron, you'll also have the opportunity to be featured on the home screen.
Download Cowabunga iPA
Cowabunga features
The app comes with a wide range of features, some of which include:
Running in the background to prevent some changes from reverting. This feature has minimal battery loss (~1% per day on frequent), but results may vary.
Springboard: This feature enables you to hide the dock, home bar, folder backgrounds, and app switcher blur. You can also hide CC module backgrounds and notification banner backgrounds. Additionally, you can import folders of app icons.
App Icon Themes: The app allows you to upload custom sound effects, with support for nearly every audio format. The maximum upload audio size is 150 KB, but the app will not apply audio if it's too big.
Passcode: You can customize the passcode keys and import passcode keys files from TrollTools.
Locks: You can import locks from TrollLock and customize the number of frames and animation speeds.
Explore: You can find and download themes for passcodes, locks, and app icons. If you want to submit your own works, you can join the Discord.
Status Bar: This feature allows you to change the carrier name, time text, breadcrumb text, and hide many icons in the status bar.
Other Tools: You can customize fonts, lock screen footnote, notification badges (iOS 14-15 only), springboard colors, and disable shortcut banners. You can also turn shortcuts into app clips.
Supervise Device: This warning notifies you to use the features below at your own risk. You can change the system version (shows in settings, iOS 15+), enable iPhone X Gestures, and enable Dynamic Island (iOS 16+).
Extra Tools: This feature includes Lock Screen Footnote, No Lock On Respring, and Numeric Wi-Fi Strength.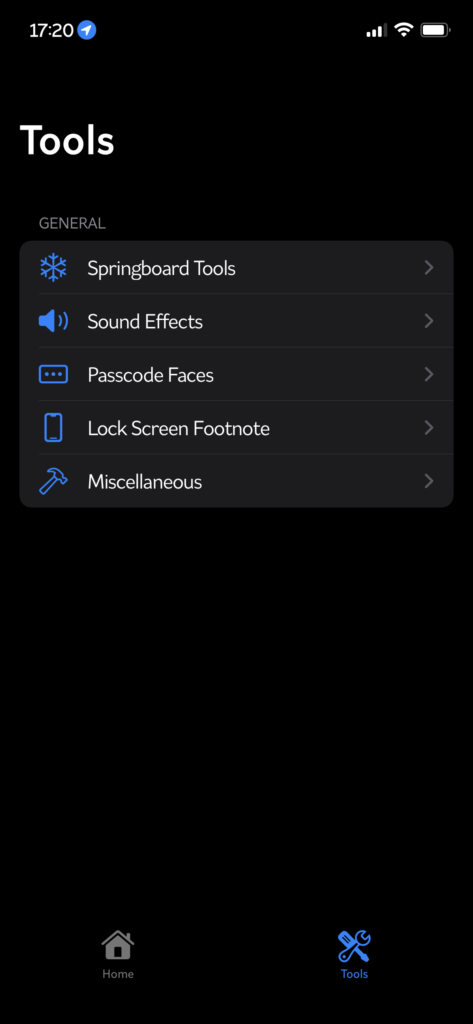 Cowabunga supported iOS
iOS 16.1.2 | iOS 16.1.1 | iOS 16.1 | iOS 16.0.3 | iOS 16.0.2 | iOS 16.0.1 | iOS 16
iOS 15.7.1 | iOS 15.7 | iOS 15.6.1 | iOS 15.6 | iOS 15.5 | iOS 15.4.1 | iOS 15.4 | iOS 15.3.1 | iOS 15.3 | iOS 15.2.1 | iOS 15.2 | iOS 15.1.1 | iOS 15.1 | iOS 15.0.2 | iOS 15.0.1 | iOS 15
iOS 14.8.1 | iOS 14.8 | iOS 14.7.1 | iOS 14.6 | iOS 14.5.1 | iOS 14.5 | iOS 14.4.2 | iOS 14.1.1 | iOS 14.4 | iOS 14.3 | iOS 14.2.1 | iOS 14.2 | iOS 14.1 | iOS 14.0.1 | iOS 14
How to Install Cowabunga IPA AltStore Mac
These steps provide guidance on how to install AltStore on your Mac and use it to install iPA files on your iOS device:
Step 1: Visit the AltStore website and download the app for Mac.
Step 2: Unzip the downloaded file and drag it to the Applications folder.
Step 3: Open AltStore by double-clicking on it.
Step 4: In the AltStore menu bar options at the top right of the screen, select "Install Mail Plug-ins".
Step 5: Enable AltStore plug-ins in your Mail preferences under "Manage plug-ins". Then, click on Apply.
Step 6: Connect your iOS device to your Mac. If this is your first time connecting the devices, you will need to trust the connection.
Step 7: In the menu bar, select AltStore and choose "Install AltStore". Enter your Apple ID and password when prompted.
Step 8: Once the installation is complete, the AltStore icon will appear on your iOS device. Before opening it, go to Settings → General → Device Management, select your Apple ID, and tap "Trust".
Now, you can use AltStore to install iPA files on your iOS device
Cowabunga provides additional functionality for iOS devices, including the ability to change the system version (for iOS 15+) and enable iPhone X gestures on older devices. This allows for a more intuitive navigation experience, with gestures such as swiping up from the bottom to access the Home Screen, swiping up and holding to access the App Switcher, and swiping down from the top-right corner to access Control Center.
The Cowabunga app is regularly updated with new features, and version 6.0 includes a redesigned user interface and several new tools. These include a device model name changer, the ability to import and preview custom audio files, and notifications that alert users when the app has stopped running in the background.
Install Cowabunga IPA using Sideloadly:
Note: Please be aware that sideloading apps onto your device using third-party tools like Sideloadly can come with risks, and you should always use caution and only download IPA files from trusted sources.
Here are the steps to install Cowabunga IPA using Sideloadly:
Download the Cowabunga IPA file from a trusted source, such as the links provided in the instructions above.
Download and install the Sideloadly application on your PC or Mac.
Connect your iPhone or iPad to your computer using a USB cable.
Launch the Sideloadly application on your computer.
Click on the "Install" button in Sideloadly.
In the IPA section, click on the "Select" button and browse to the location where you downloaded the Cowabunga IPA file.
Once the IPA file is selected, Sideloadly will ask for your Apple ID and password to sign the IPA file. Enter your Apple ID and password and click "OK."
Click the "Start" button to begin the sideloading process.
Wait for the sideloading process to complete. This may take a few minutes.
Once the sideloading process is complete, go to the Settings app on your iPhone or iPad.
Navigate to "General" → "VPN & Device Management."
Look for the developer app associated with your email and click on it.
Tap "Trust" to allow the app to run on your device.
The Cowabunga app should now be installed and ready to use on your iOS device.
Install Cowabunga iPA online without PC
To install IPA files using the Kekuk iOS Store, you do not need a computer. Follow these steps:
Step 1: Go to the Kekuk iOS Store by clicking on the link provided below: https://kekuk.com/app
Step 2: Find the "tweaks" tab and browse for tweaked apps and games. You can search for "Cowabunga IPA" here.
Step 3: Click the "Get" button.
Step 4: After the installation dialog appears, click the "Install" button to proceed.
Step 5: Go back to your home screen to confirm that the app has been installed correctly.
It looks like there have been several updates to Cowabunga IPA. Here are some of the changes and new features:
Updated to version 8.1.1
Change Cowabunga's app icon
Added CC Module colors
Ability to change and apply dialer keys
Added app icons import feature (ZIP and .passthm files)
Fixed exploit on iOS 14.0 – iOS 15.3.1
Custom operations! (for advanced users)
Custom lock icons
Explore page with passcode, lock, and icon themes
Disabling shortcut banner (works on iOS 15, persistent after reboot)
Make shortcuts into app clips
Resolution setter
Notification badge changer (iOS 14 – iOS 15 only)
Custom colors of springboard elements
Disabling CC modules background
Importing Passcode themes from TrollTools
Extra tools: Supervision, Lock After Respring, Numeric Wi-Fi/Cellular Strength
Lock screen Footnote
Fixed importing entitlements for TrollStore users
Implemented Ian Beer's new exploit code
Custom audio selector (support for MP3 and WAV files)
Applying in the background for dock and folder background
Device model name changer.